Streetscape elements convey the experience of an urban journey across the interweaving levels of a community mall.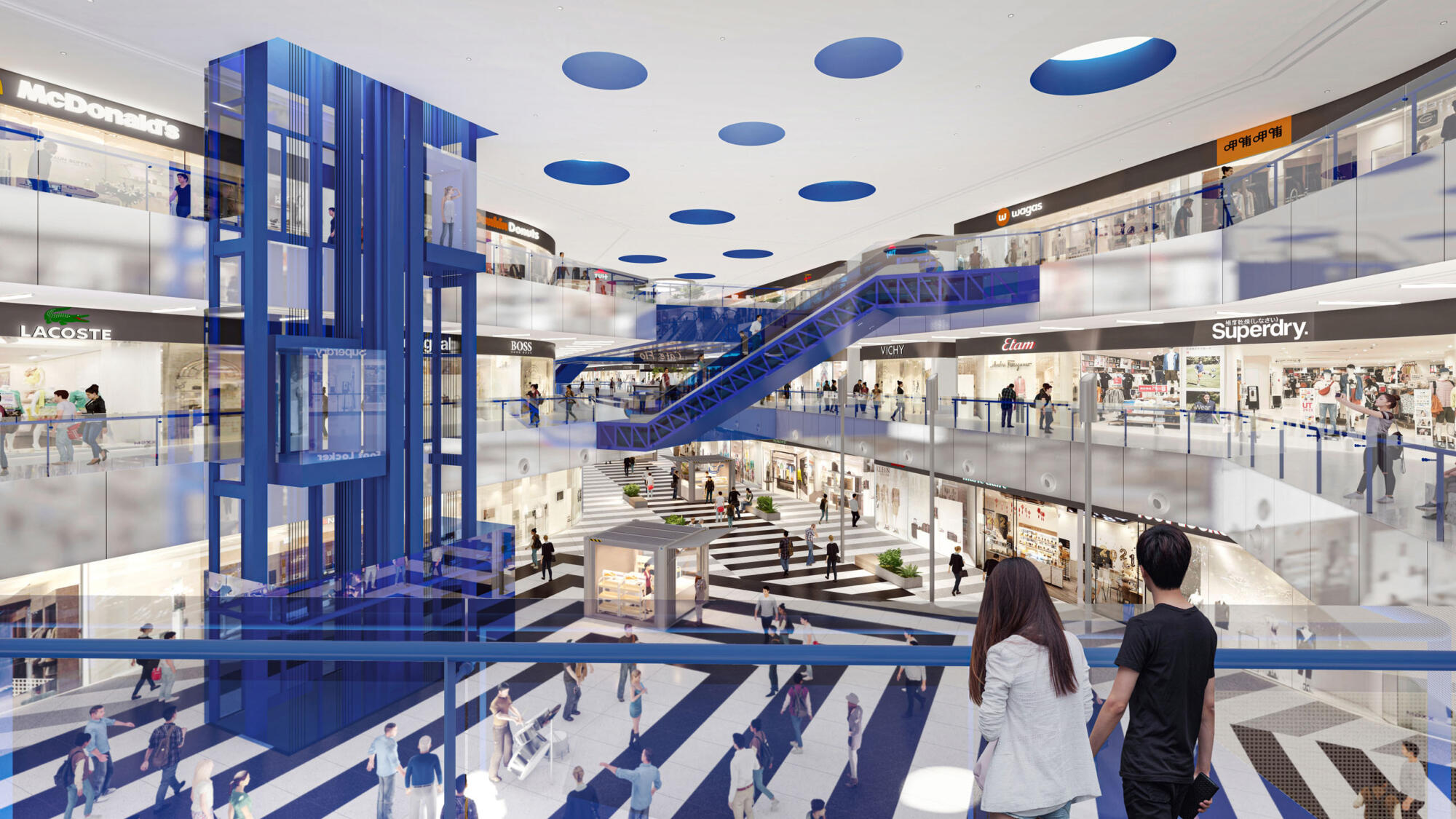 Inserted into a residential district north of the Chongqing city centre, LJCC is conceived as a neighbourhood mall catering to the emerging community: a meeting point for evenings upon returning home, and a destination for weekend outings.
Previous designs fixed a functional L-shaped building massing with little volumetric variability. To break down the uniform, wall-like appearance of the elongated elevations, a meandering roofline was introduced: in an interconnected sequence of cubes, a series of small protrusions and recesses, together with patterns, and different levels of material reflectivity, create a layered, three-dimensional appearance to a previously flat facade with the underlying massing unaffected.
Diagonal façade louvres of varying depth visually intensify the individual elements, their silver materiality breaking up the surface expanse in soft reflection and texture. Different opacities and glazing types evoke further depth and variation, while parapet lines meander in a composite appearance.
A glazed entrance cube sits diagonally at the corner, to draw customers from the intersection plaza into the mall.
A Public Interior
In the interiors, exterior streetscape elements are set to evoke the sensation of 'being on the way home': plazas, streets, alleys, and bridges are borrowed from Chongqing's multi-layered urban context, and re-assembled in monochromatic sequences, to guide into and through the retail space, to set focal points, and to vertically connect the different levels. Spatial attachments such as shop windows and balconies line the generous atria in visual and thematic connection. Bridges criss-cross the linear spaces, while kiosks animate the circulation areas.
Playful Blue interiors
The fresh and contemporary vibe is further emphasised in the colour choice, with the standard whites and greys contrasted by a deep blue. Vibrant colour contrast and graffiti-type installations add recognition value and playfulness and make the spaces a social media success.