Darron Eco-Tech Park is located at No. 97, Huoju Road in Qingdao National High-tech Industrial Development Zone (QNHIDZ), spanning a total construction area of 330,000 square meters. Built on the bank of Xiangmao River, in close proximity to advantageous ecological resources and convenient road connections, it's a land of bliss and treasure as ideal workplace. The completion of Darron Eco-Tech Park marks an emblematic model of research and development within an ecological park in Qingdao's High-tech Zone. An international centre for technical cooperation and exchanges in the form of an ecological system, it integrates functions of incubator, accelerator, headquarters for high-tech enterprises and supporting facilities for business.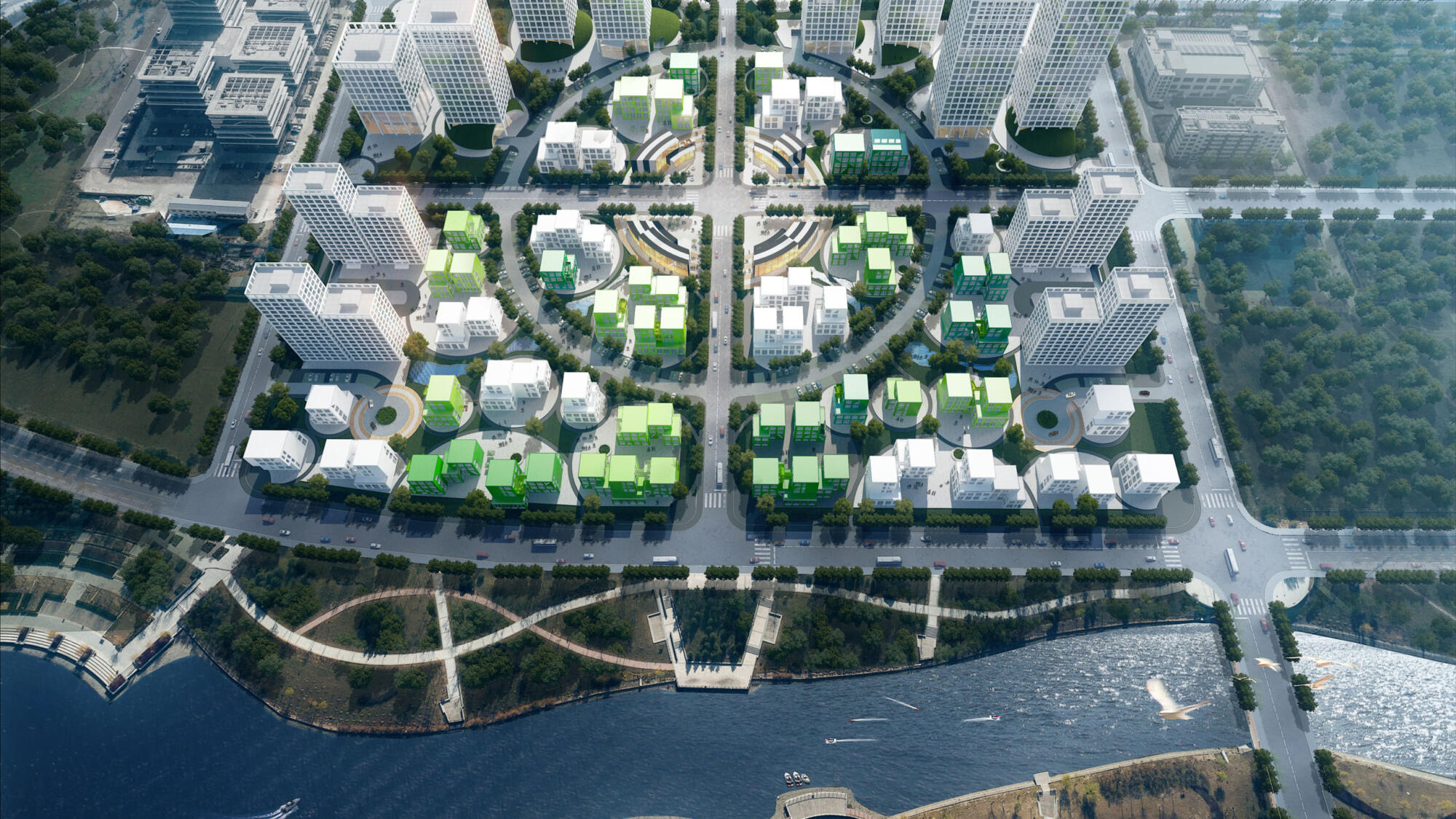 Eco-Tech Park
The project is positioned as a headquarter base for enterprises in research and development (R&D) of high-tech manufacturing, a R&D centre of advanced high-end equipment, and a R&D and international exchange centre of marine equipment. The whole park is composed of four plots: the northern plots oriented towards the canal while the southern plots are directly connected to the city's transportation network. Single-volume office complexes of ecological enterprises, architectural morphology of low-rise buildings, clusters of landscape design and floating gardens as rooftop terraces are orchestrated in place to create low-density, garden-styled workplaces with green ecology at the core, where technology, nature, architecture and landscape are tightly aligned.
CLOU's design concept is to break the conventional modular form of the Software Tech Park and tailor each plot to its geographical and functional conditions in adaptive volumetric attributes: small-scale, low-density townhouse office complexes are placed at the northern plots; single-volume buildings of enterprises, 450 to 700㎡in size, are made distinctive by the colors of their corrugated aluminium panel façades on the exterior. The ceiling height of the ground floors measuring 5.6 meters allows for flexible and open spatial arrangement to meet changing needs at different stages for companies in distinct industries, on par with office buildings in world-class centres of technology and industry such as those of Silicon Valley in California and Bangalore in India.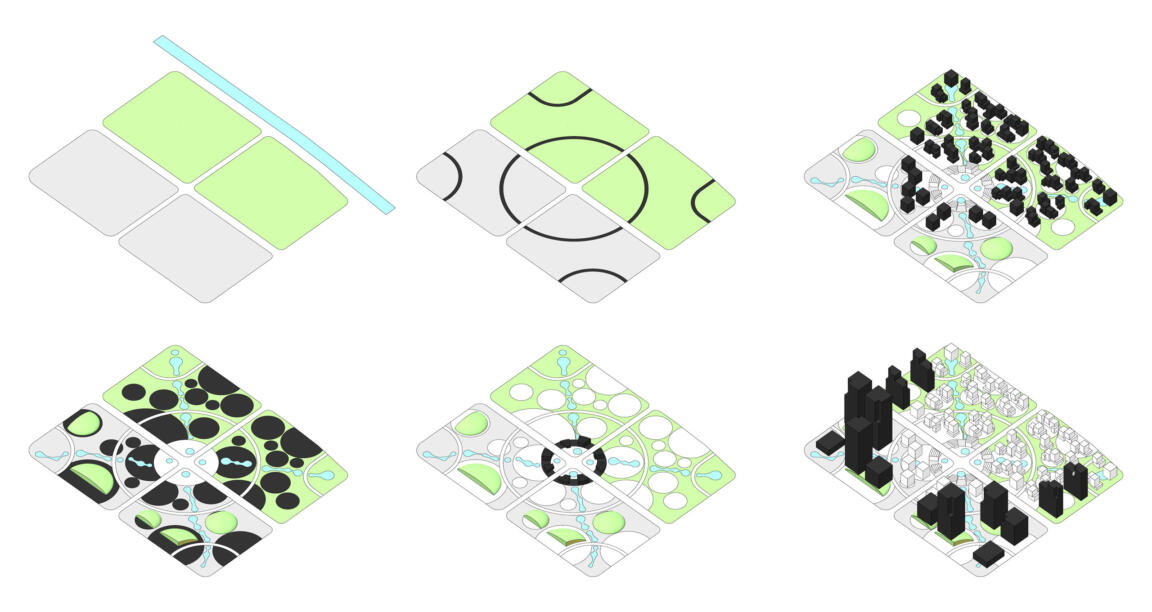 270° Panoramic Rooftop Garden
Four building clusters of Green Island Garden, Wetland Garden, Open Forest Garden and Rock Garden, as well as the open, circular central landscape belt, all converge to form the Tech Park. From vantage points on garden terraces, a panoramic view unfolds up to 270 degrees. Green ecological landscape design is applied throughout all single-volume buildings, connecting the four corners to the centre of retail operations.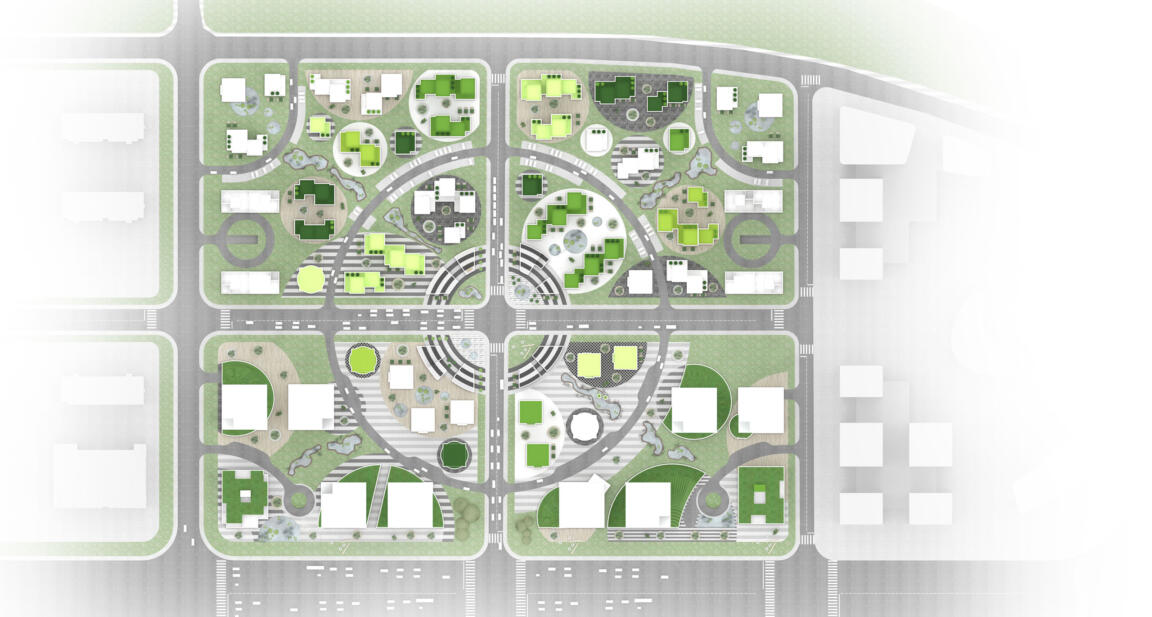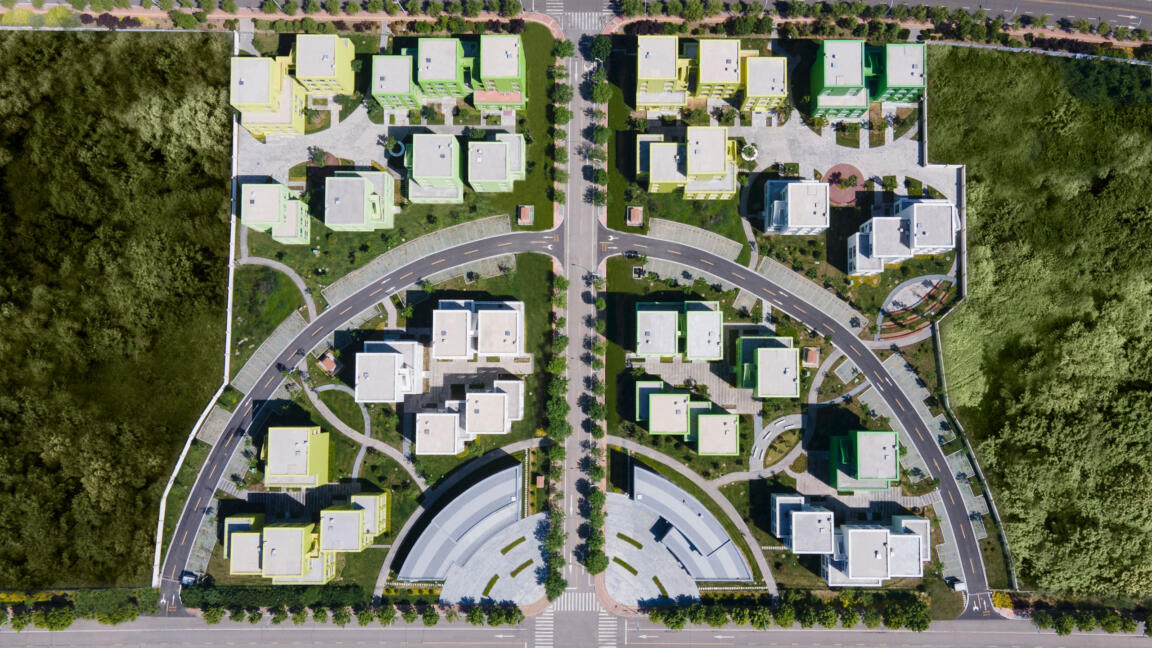 90% Low-Carbon Area
For the first park of green construction in Qingdao High-tech Zone, CLOU's masterplan design incorporates circulations that divert people and vehicles. Nearly 90% of the areas in the park are pedestrian-friendly, maintaining a low-carbon, vehicle-free riverside ecological environment across all office areas.
Micro-energy Comsumption
The buildings in the park adopt the Ground Source Heat Pump (GSHP) technology for their cooling and heating systems to maintain warmth in winter and coolness in summer, a highly automated approach that is, above all, more green, energy-saving and sustainable. Operating principles: The system of Ground Source Heat Pump (GSHP) technology brings into play the relatively stable, moderate temperatures of the underground soil for transferring heat to and from the interior of buildings through a pipeline system buried deep down around the buildings. In winter, heat is extracted from the soil to provide heating for the buildings; in summer, heat is discharged into the soil to cool the buildings. The system uses soil as both heat source and cold source, and supplies heating or cooling to buildings through heat pump units of high-efficiency.
The high-density zone of incubator offices, a building area of 1,000 to 1,200 square meters that comprises high-rise, whole-floor offices, is situated at the southern plots with convenient access to road connections. For each plot, the landscape belt encloses partially intimate interior spaces for leisure. These circular central landscape belts converge to form the central garden in the park, where people and circulation naturally gather, facilitating communication and exchanges of ideas. With the fluidity of connected commercial and landscape axis, the four plots are aligned in a cohesive way.
Professional Park Operation
Early this year, Qingdao Zhongguancun (ZGC) Xinxigu Innovation Center, jointly established by the Management Committee of Qingdao High-tech Zone, ZGC Xinxigu and Darron Eco-Tech Park, was officially unveiled and put into operation. The design by CLOU for Darron Eco-Tech Park provides a wide array of office spaces for different types of technology and innovative industries, as well as delivering an integrated design solution that highlights the features and identity of the park, presenting it as a pioneering model for the planning of ZGC Xinxigu as a demonstration base for innovations.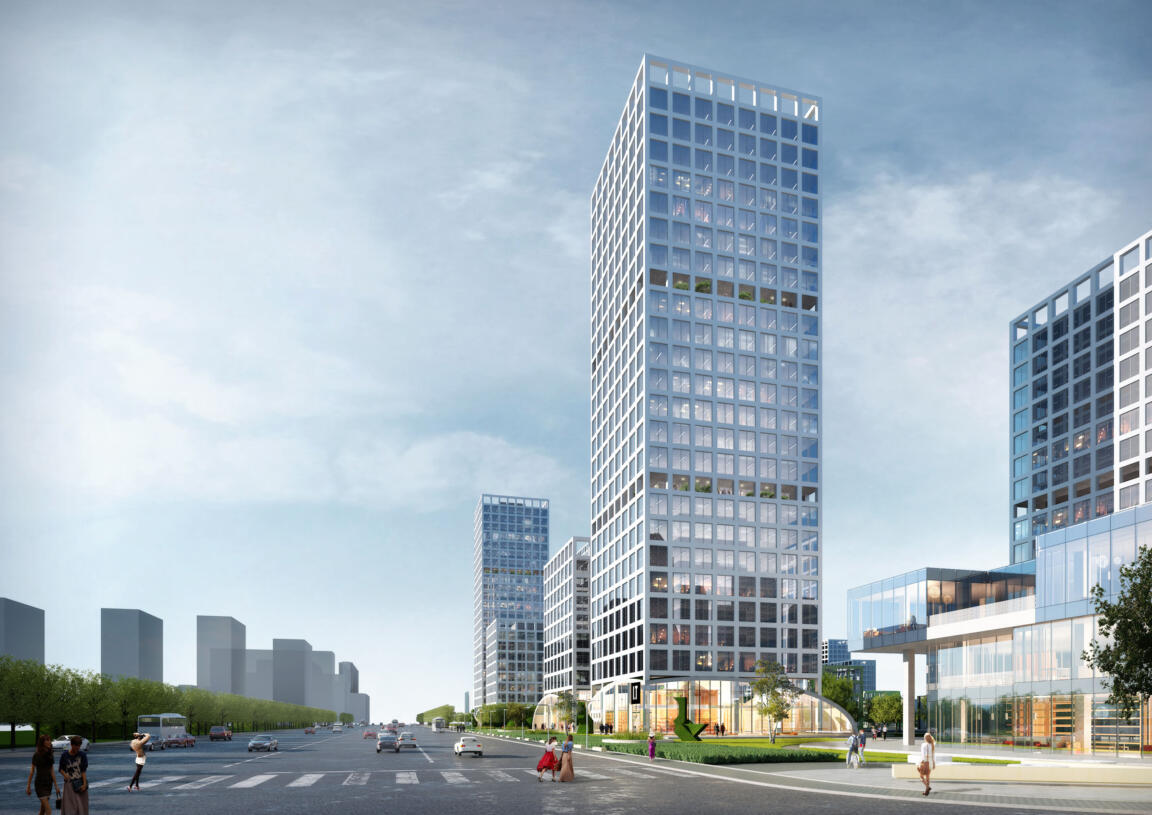 Project Team
LDI
Qingdao City Architect Consultant Co., Ltd.
Facade Consultant
Qingdao Hong Hai Curtain Wall System Co., Ltd.