Three lively courtyards and a quiet community garden interject a meandering retail street towards a busy traffic hub.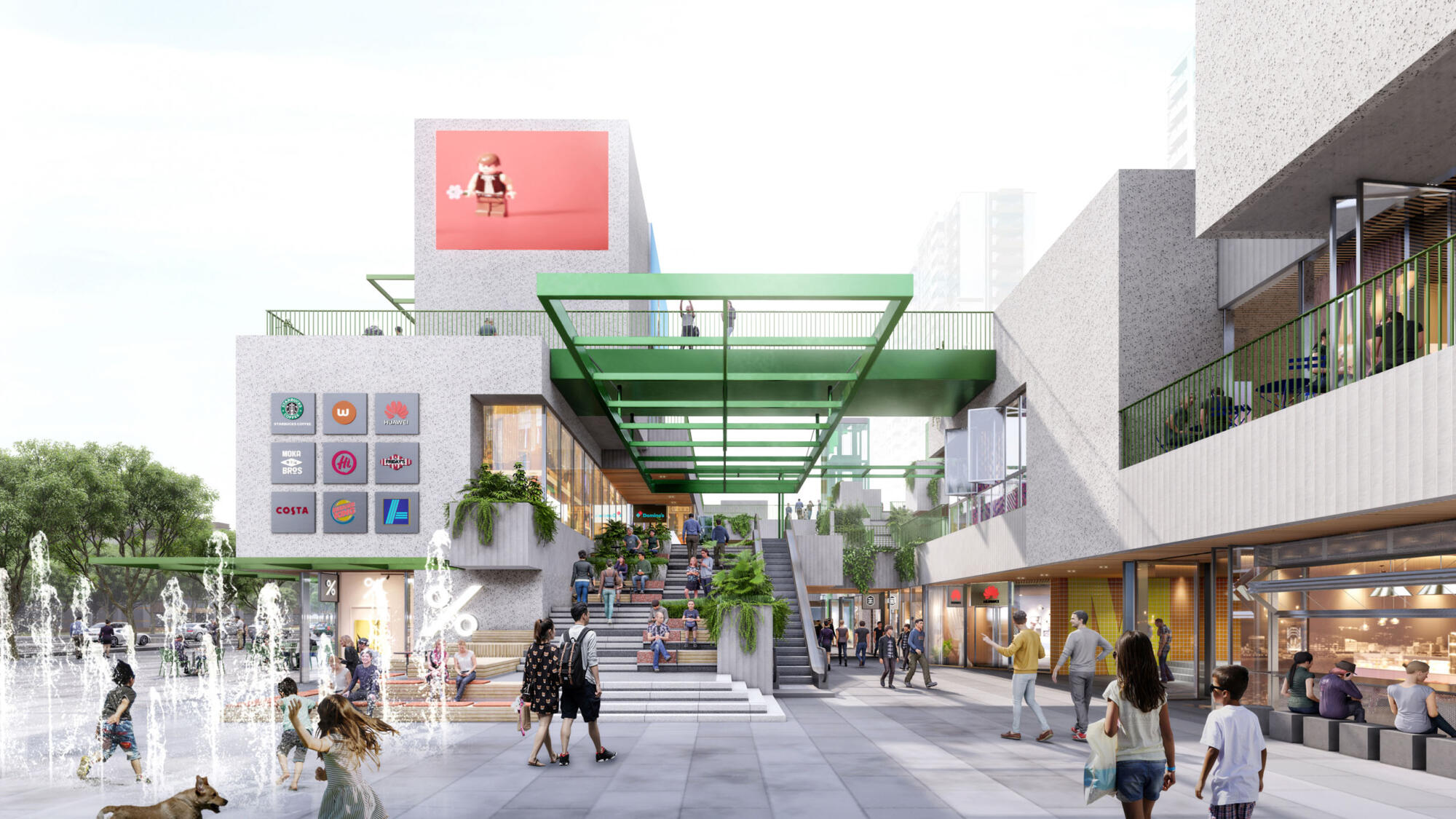 Courtyard Courtship
Located on top of a metro interchange station in central Pudong, the Vanke Shanghai B4 mall is conceived as a sociable community and lifestyle mall that caters to the mostly young urban professionals of the growing residential neighbourhood.
The transport hub below ground dictates much of the layout on the elongated L-shaped site above: multiple station access points, escape stairs and ventilation shafts serve the public transport system and, together with the station's structural support, become critical set-out points and green anchor points that create the rhythm for all building placement.
A 'meandering courtyard' approach reacts to these site markers in a flexible and accommodating way, converting them into value-added features that syncopate the flow of retail along the length of the site. Open landscaped spaces on multiple levels interchange with linear retail in an effort for maximum frontage, varied floor plates, and flexible store depths.
With its strong corner presence towards the intersection, the Wutong Courtyard offers a contemporary sustainable social media cool: the feature vertical circulation leads up into green landscaped terraces above the metro station that offer cafés, a market place, and leisure facilities.
Further into the site, the social Neon Yard centres around young F&B outlets and pop-ups that connect indoor and outdoor settings for a lively backdrop into the late hours. The Home Yard is a family-oriented fun and leisure space with a food court focus. Bridging into the main mall nearer the residential developments, the Single Garden is a social neighbourhood space with upper-level quiet courtyards and vertical planting above a supermarket and parking.
The cubic architecture plays with recessed and protruding volumes and canopy plates, their reddish brick facades referencing Shanghai's traditional Shikumen compounds. Vertical circulation elements couple with landscape elements and bright colours, to encourage visitors to explore, to wander up and down the various levels, for fun, for unexpected discovery, and for human interaction.